intex, tekstil üretiminin dijital dönüşümünü sağlıyor.
intex, tekstil üretiminin dijital dönüşümünü sağlıyor.
Makinelerin denetlenmesinden standart-fiili maliyet hesaplanmasına kadar tüm tekstil süreçleri için kurumsal kaynak planlaması (ERP) ve üretim yürütme sistemi (MES) çözümleri sunuyoruz.
Tekstil sektörü, çağımızın en karmaşık ve iç içe geçmiş sektörlerinden biridir. Tekstil süreçlerinin bu yüksek düzeydeki karmaşıklığını yönetmek için dijital çözümler vazgeçilmezdir.
intex, tekstil endüstrisinden müşteriler için özel olarak geliştirilmiş bütünsel ve tam entegre bir ERP yazılımı sunar.
intex provides a large variety of modules, including:
"Intex, gerçek zamanlı ve doğru izleme ile tam bir izlenebilirlik sağlamamızı sağladı. Bu bilgilerin analizi, işletme içi stokları ve dolayısıyla teslim süremizi azaltmamıza yardımcı oldu.
Böyle belirsiz zamanlarda biz ve müşterilerimiz için sağlanan büyük bir fayda. "

Mr. Nishant Mehta, Director of Haren Textiles Pvt. Ltd., India

intex, ekonomik hedeflerinizi gerçekleştirmenize yardımcı olur
intex IoT
intex, entegrasyon açısından yüksek esneklik sunar. Endüstriyel uzmanlaşma nedeniyle halihazırda uygulanmakta olan çok sayıda partner ile ortak çözümü bulunmaktadır. Terazilerin, laboratuvar ekipmanlarının, dokuma tezgâhları, çözgü, ramözler ve diğer üretim makinelerinin ilave donanım vasıtasıyla veya makine kontrolüne (PLC) doğrudan arayüzleme yoluyla bağlanması konusunda büyük bilgi ve uzmanlık. OPC-UA arayüzümüz, sürekli olarak yeni makinelere uyarlanmak üzere tasarlanmıştır. Makul bir yatırım getirisi sağlarken son teknoloji çözümler sunmak için pragmatik bir yaklaşım izliyoruz. ERP ve makine kontrolü arasındaki doğrudan veri alışverişi artık bir vizyon olmamalıdır.
Intex Danışmanlık, takip etmeyi hedeflediğiniz dijital üretime giden yolda size danışmanlık yapıyor.
RWTH Aachen Üniversitesi'ndeki tekstil teknolojisi ve tekstil makine mühendisliği enstitüsü, çözümlerimizi resmi olarak"tekstil endüstrisi için endüstri 4.0 onaylı" olarak onayladı.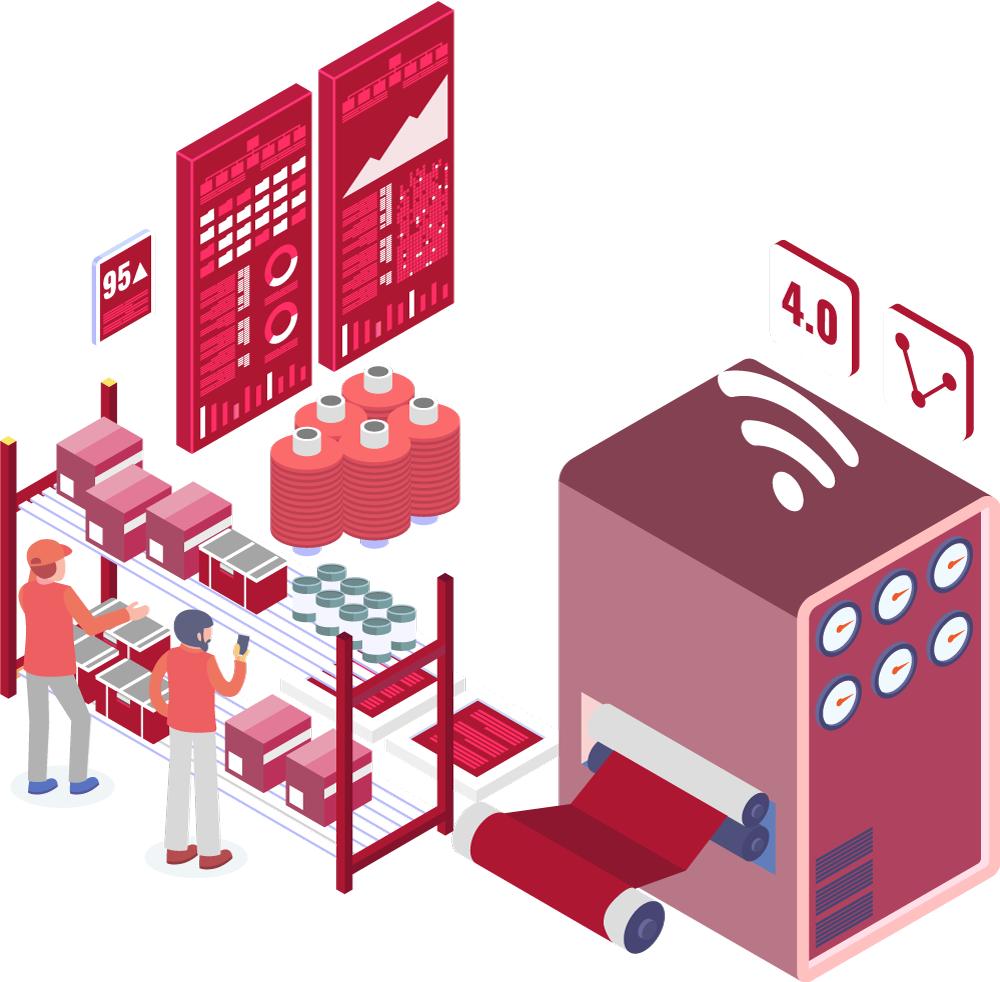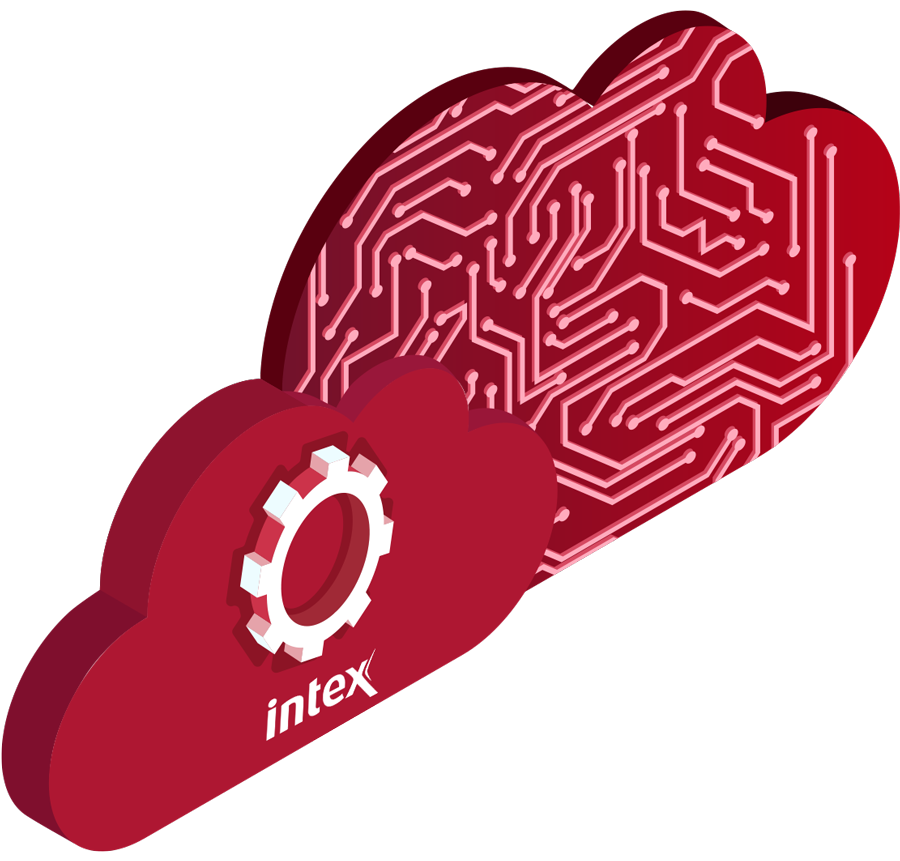 intex cloud çözümü de mevcuttur
Her iki Intex çözümü de, intex ERP Business Suite ve intex tekstil MESfor SAP® S/4HANA, tamamen bulutta çalışabilir. İstemci tarafında donanım gereksinimlerini minimuma indirmek ve uluslararası lider servis sağlayıcılar ile şbirliği içinde yüksek performanslı bulut hizmetleri sağlamak. 10 kullanıcıdan 2000 kullanıcıya kadar olan müşterilere ölçeklenebilirlik sağlanmaktadır – müşterilerimizin bireysel ihtiyaçlarına göre esnek bir şekilde çeşitli çözümler sunuyoruz.
Yine de şirket içi(on-premise)kurulum isteniyorsa, performanslı ve güvenilir bir model de sunuyoruz.
intex mobil uygulama alanında önemli yenilikler yapmıştır/yapmaktadır.
intex Sales App, intex müşterilerine değer katan mobil uygulamalardan sadece bir tanesidir. İlk olarak, numune stoğunuzu takip etmeyi kolaylaştırır: Belirli bir stok kodu hangi kartelalarda bulunur? Müşteriyle ilgili bir stok kodunun fiyatı nedir? belirli fiyat listesi? Numunelerinizin üzerindeki QR kodunu tarayarak bu soruları kolayca yanıtlayın. Buradan yeni veya mevcut müşteriler için hızlı bir şekilde numune siparişi verebilirsiniz.
Uygulama ayrıca Fuar Yönetiminizi de destekler: Saniyeler içinde sipariş verebilir ve bu satışları fuar sırasında rezerve edebilirsiniz. Maliyet muhasebesi departmanınız, tüm satış faaliyetlerinizin gerçek zamanlı raporlarını alır. Bu şekilde tüm satış aktivitelerinizi takip edebilir, size ve müşterilerinize en fazla değeri katan etkinliklere odaklanabilirsiniz.