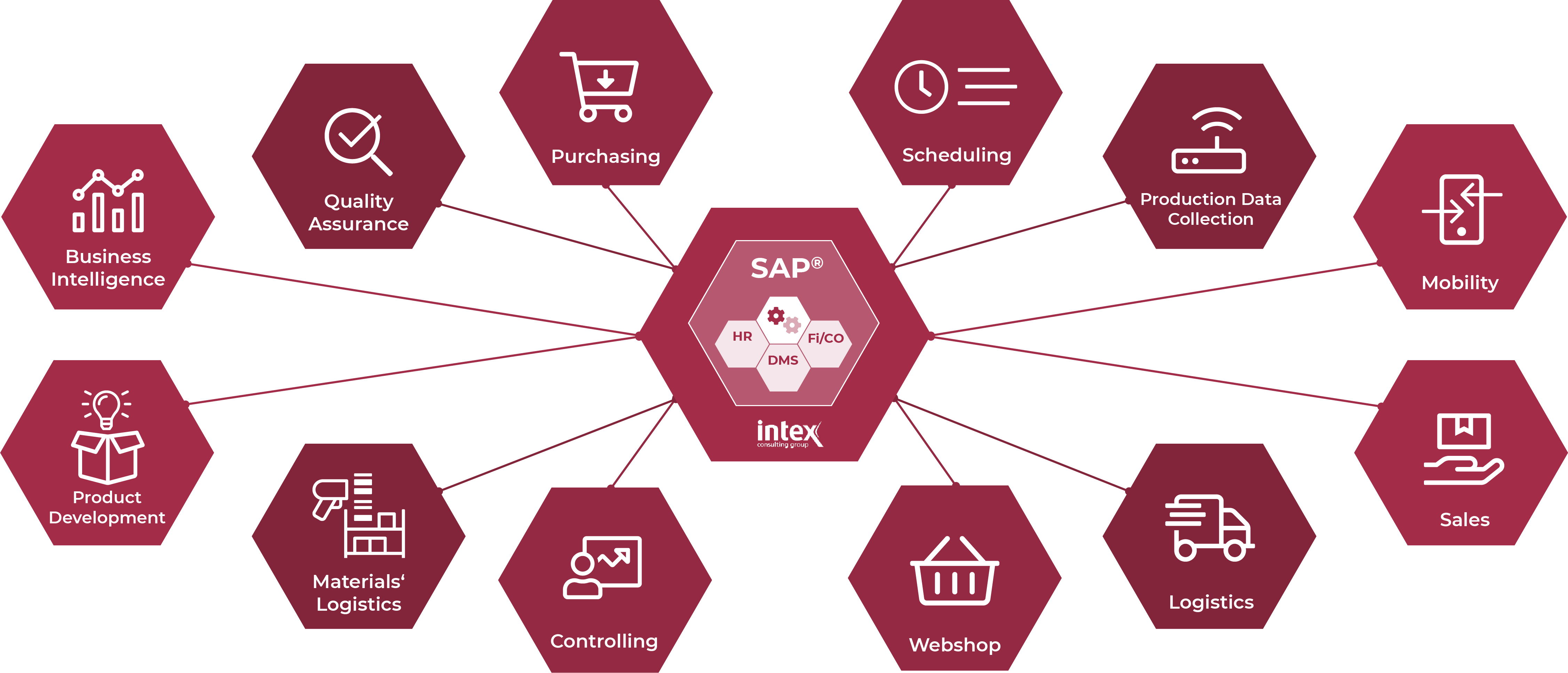 intex textile MES

for SAP® S/4HANA
intex textile MES expands SAP® S/4HANA by supplying functions that are specific to the textile industry as a holistic Manufacturing Execution System including Production Data Collection.
intex textile MES for SAP® S/4HANA is the optimal solution for companies in the textile industry that already have SAP® in use or plan its implementation in the future.

A seamless integration
As the aim of Intex Consulting Group as a company is to set the global standard for textile specific production planning and controlling software, a partnership with the market leader of business administration software was a logic consequence. In opposite to the general decision it cost us quite a lot of effort, analysis, bilateral discussions. Plugging or Add-On to the standard SAP was a very thought and effort intense activity. With the support of the Management Research Center of the German Institutes for Textile and Fiber Research Denkendorf (DITF) we have developed the concept for the integration of intex textile MES to SAP ERP. After successfully implementing and supporting the SAP R3 and ECC 6.0 we have in May 2021 achieved the re-certification on the SAP S/4HANA release 2020 with our renamed software suite "intex textile MES for SAP S/4HANA". In a nutshell: We have developed standard screens in the Sales and Procurement of SAP that are modified and optimized for the need of textile mills. Additionally we run more than 120 RFC (Remote Function Call) interfaces, that are booking transactions purely online. Take advantage of the best of two worlds – with intex textile MES for SAP S/4HANA.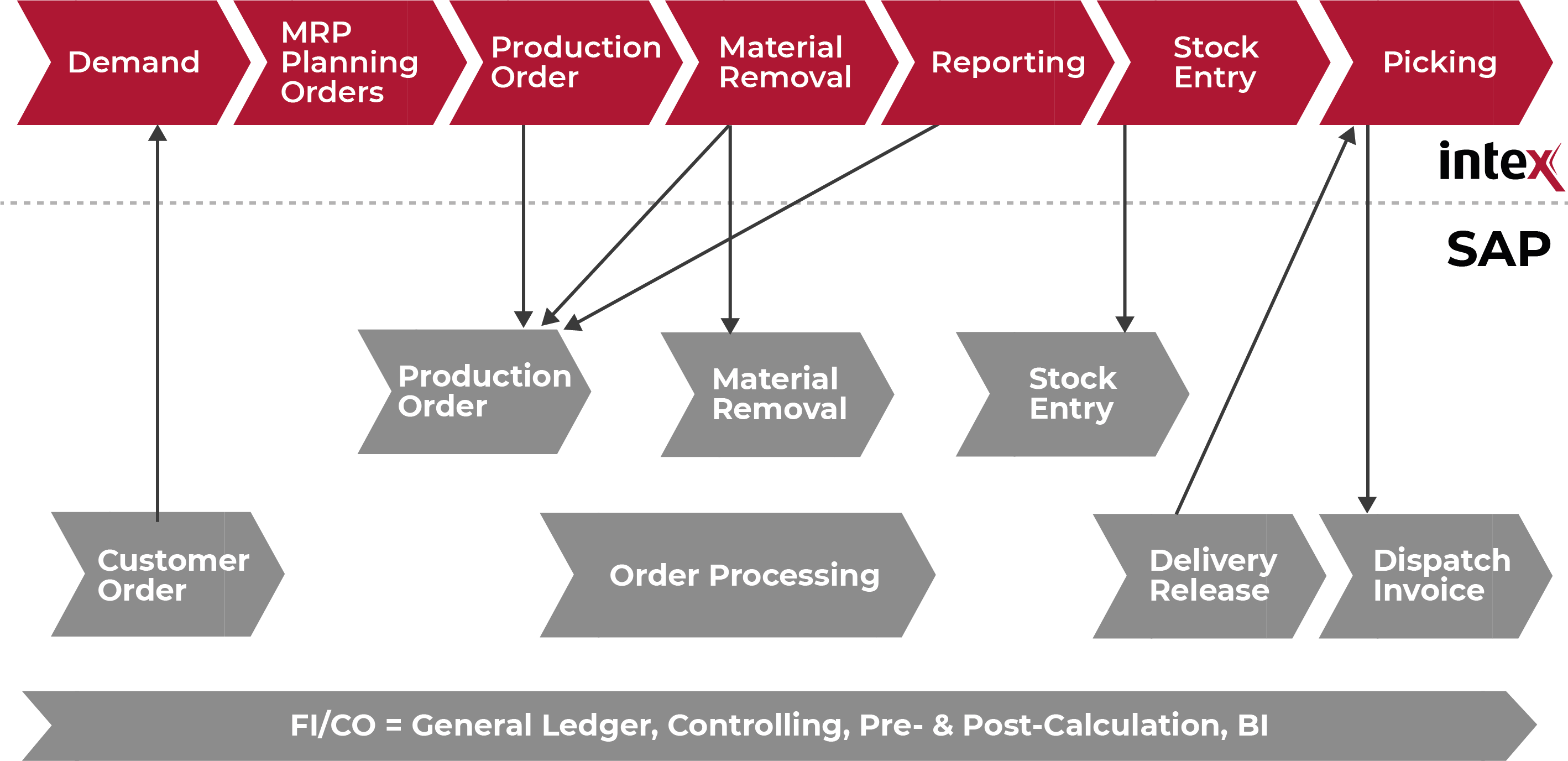 Why intex textile MES
for SAP S/4HANA

?
intex textile MES for SAP® S/4HANA is the certified specialized textile industry solution for SAP ERP. intex textile MES for SAP® S/4HANA expands SAP® S/4HANA by many textile specific functions such as master data administration, standard and actual costing, cut optimization, maintenance, invoicing, and others. Also in other areas, such as sales, delivery, buying, production, quality assurance and controlling, intex textile MES for SAP® S/4HANA delivers additional tools tailored to the textile industries' needs.
Additionally, intex textile MES for SAP® S/4HANA forms an entire manufacturing execution system (MES). It takes the current manufacturing situation on the machine and the finite capacity into consideration, by evaluating the live data being delivered from the production data collection (PDC) system. This increases the reliability of the delivery date and optimizes the production.
intex textile MES delivers a solution for all areas and takes care of the integration of different systems and technical aspects. All operative documents are pre-configured for you to start over immediately. We can also assist with the technical support of your server and supply a helpdesk for the users. Our support team is there to help you in a fast and efficient manner and the hotline at our different international offices makes it possible to contact the hotline almost round the clock.
intex textile MES for SAP® S/4HANA has been developed for the textile industry. Therefore costly amendments and complicated customizations are unnecessary. The system is pre-configured and ready-to-run when it is being installed. intex textile MES for SAP® S/4HANA is flexible. In case, changes have to be made at a later date, the configuration can be changed. We have taken care, that the effort for administrative maintenance is as little as possible.
In order to keep your system up to date, we regularly release new versions which can be downloaded over the internet. intex textile MES is the only pure standard software on the global software market dedicated to the textile production industry that remains always able to updates. The installation of updates is fast and easy. In case you have requirements that we currently do not cater to, we will be happy to extend the software according to your wishes. This enables us to keep your system up to date in the future.