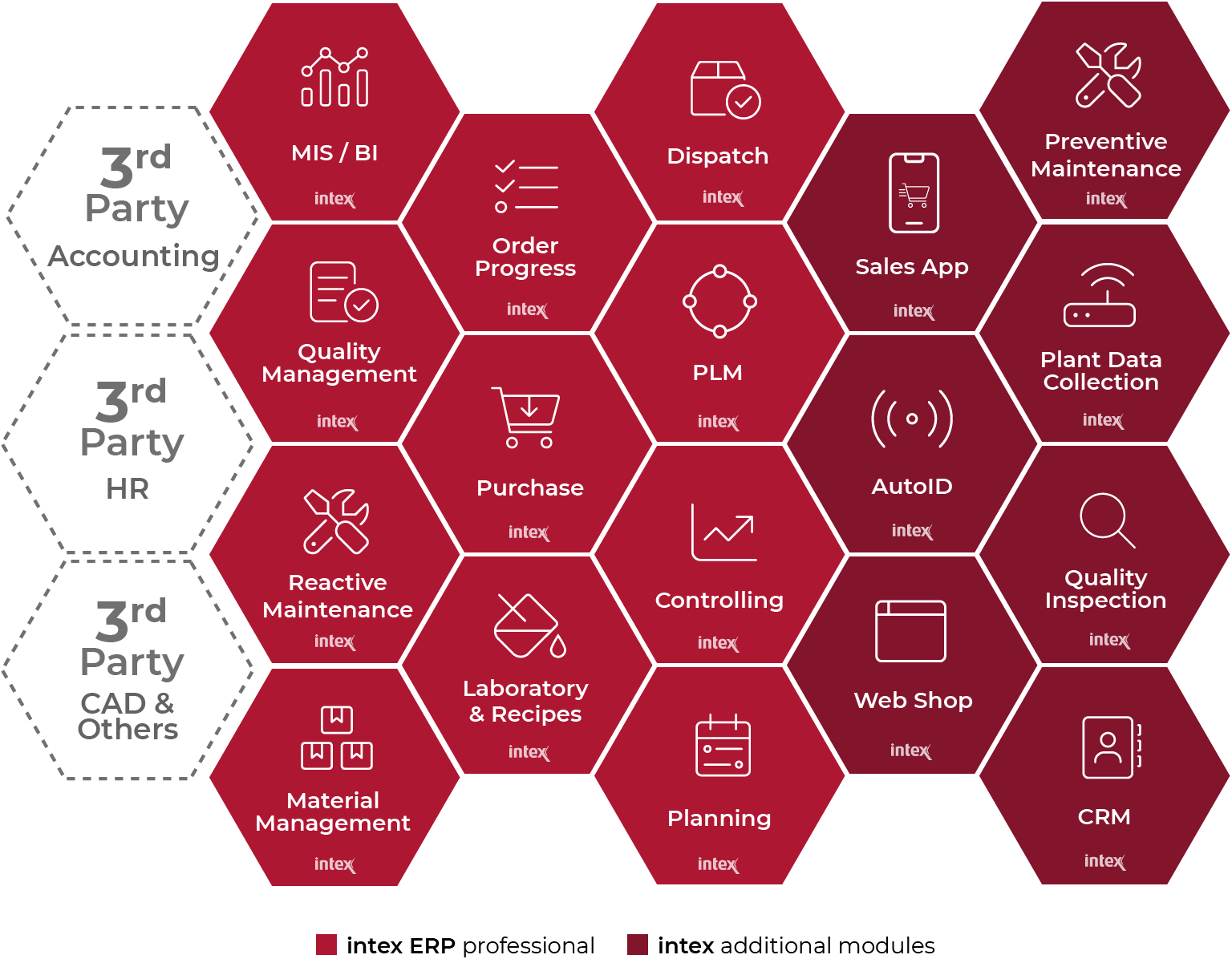 intex textile ERP
Use the possibilities of digitization – tailored to the needs of the textile industry.
Not many industries are as complex and interconnected as the textile industry. This makes it hard to cover textile chain processes with non-industry specific ERP systems.
intex textile ERP offers a standard software suite that is tailored purely to the specific needs of customers from the textile industry.
The pure standard software in the textile specific ERP and MES market
The highly specific needs of the textile industry are typically not covered by the standard ERP and MES software products that target multiple industries. This problem is often addressed by custom software development specifically for one textile company. This comes with major disadvantages of limited functional scope as well as high development and maintenance cost and long implementation times.
Intex however is a pure standard software that is developed especially for customers from the textile industry. Therefore most of the industry-specific features you need are implemented already and work right out of the box. You profit in terms of higher stability, lower implementation cost and easy updatability.
Future proof
intex ERP has received constant improvements and regular updates for over 30 years. We have no plans of changing that. With intex ERP you opt for a future proof software that will grow together with your business for years to come.
With the use of one common and state-of-the-art database with proven data consistency, intex ERP is a highly performant solution that will help you to accelerate your processes.
Fully international
Being present in 6 countries with own staff and implementations in 25 countries around the globe, intex is a fully international business software and implementation partner.
Our softwares don't only support 13 languages as well its printouts are multilingual. As we have been parametrizing forms and printouts for textile production for quite a while now our implementations get a preconfigured set of standard forms and printouts delivered. There is always some adjustments required but we don't need to reinvent the wheel. In opposite to other systems the forms and printout parametrization is only required once in the company's home language. The other forms and reports get simply translated without further parametrization. Smart, huh?
The textile industry is one of the most globalized ones and a vastly multicultural environment. Subsequently we have set the language as a individual thing for each user. Anyone should be able to work in her or his preferred language – regardless of their current place of living. Couldn't be more convenient to arrange the language setting individually as just by the logon data.
Single source development
One of the biggest advantages of the use of intex is its single source of development.
Since intex covers your whole organization there are no compatibility problems between modules or the need to use multiple apps to cover a single process, but only continuous processes in one integrated system.
In addition to that, a single source development also means a single source of support: No matter if you want to adjust the process of contacting leads in your CRM or capture new machines in your production planning: Our team at intex can support you on the most direct route.
Integration of Accounting software
Intex Consulting doesn't offer any own solution for the Financial Accounting. Is that a weakness of our software? From our point of view it's rather a big strength. Anything related to the valuation, inventory management, standard costing based upon the article specific target machine settings, actual costing based upon real times and consumptions from the monitoring, profit margin calculation, invoice posting, credit limit control, everything related to the textile material – all of these important functions are covered by intex. Solely the pure accounting is getting interfaced in a lean way.
The frequent changes of the tax regulations in several countries and local legal requirements lead to this strategy which we follow since the beginning and aim to go in this way in future. If local legal requirements are touching intex' functionality they get naturally developed as part of the standard. For instance intex covers E-Invoicing process in Italy and Turkey (EVRIM) and others. Intex Consulting will provide the data to the General Ledger and get bilaterally updated frequently. So intex can concentrate on providing data and possibilities for increasing the textile businesses' profit margin – and our customers are free to choose simply the best Financial Accounting they can find to suit their needs.
If you have any question on this topic feel free to reach out to us!
intex provides a large variety of modules, including: