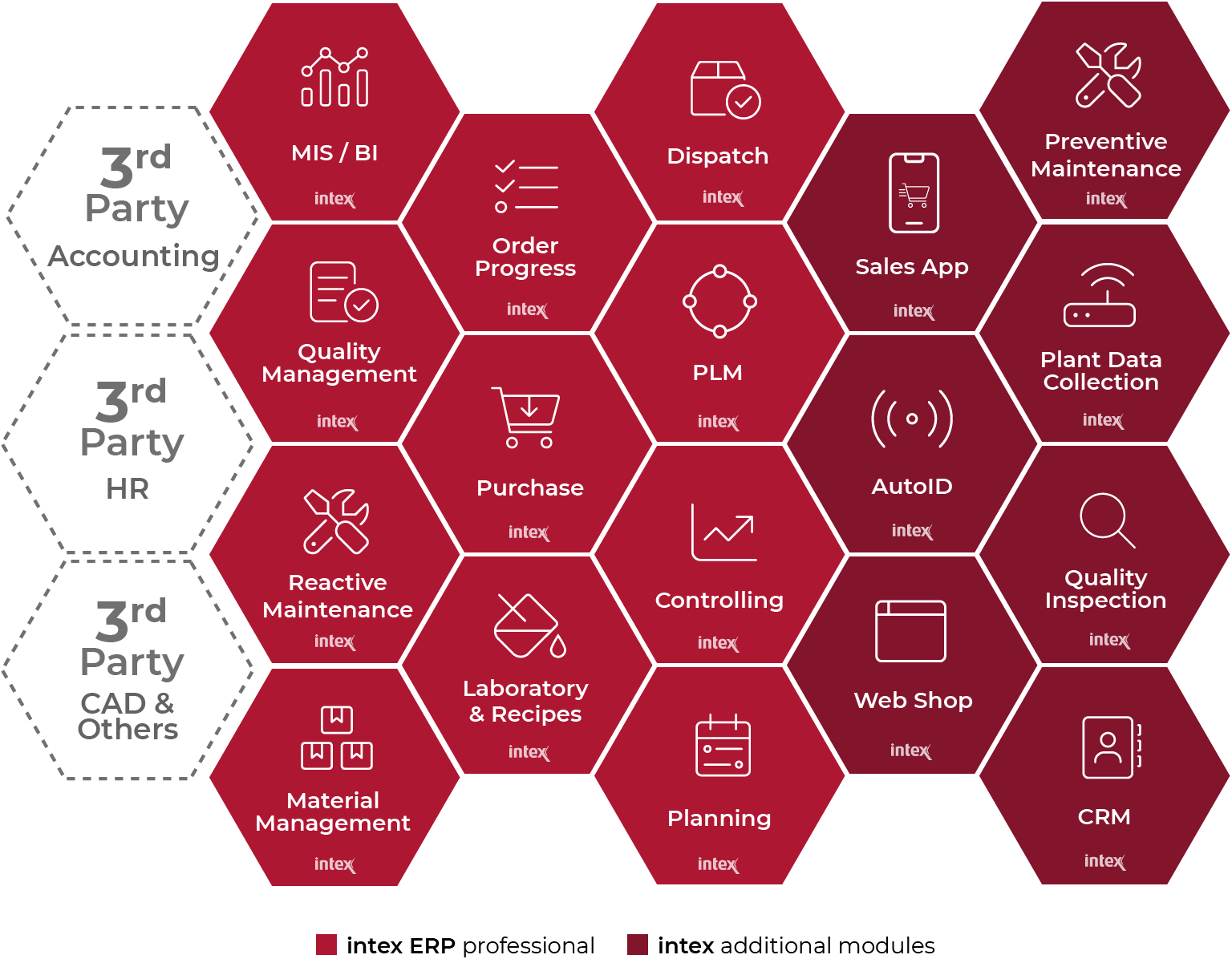 ERP textile intex
Utilisez les possibilités de numérisation adaptées aux spécificités de l'industrie textile.
Not many industries are as complex and interconnected as the textile industry. This makes it hard to cover textile chain processes with non-industry specific ERP systems.
intex textile ERP offers a standard software suite that is tailored purely to the specific needs of customers from the textile industry.
The only pure standard software in the textile specific ERP and MES market
Les besoins très spécifiques de l'industrie textile ne sont généralement pas couverts par les produits logiciels ERP et MES standard qui ciblent plusieurs industries. Ce problème est souvent résolu par le développement de logiciels personnalisés spécifiquement pour une entreprise textile. Cela s'accompagne d'inconvénients majeurs d'une portée fonctionnelle limitée ainsi que de coûts de développement et de maintenance élevés et de longs délais de mise en œuvre.
Intex est cependant un logiciel standard pur qui est développé spécialement pour les clients de l'industrie textile. Par conséquent, la plupart des fonctionnalités spécifiques à l'industrie dont vous avez besoin sont déjà implémentées et fonctionnent immédiatement. Vous bénéficiez d'une plus grande stabilité, d'un coût de mise en œuvre réduit et d'une mise à jour aisée.
Future proof
Intex ERP a reçu des améliorations constantes et des mises à jour régulières depuis plus de 30 ans. Nous n'avons pas l'intention de changer cela. Avec Intex ERP, vous optez pour un logiciel à l'épreuve du temps qui évoluera avec votre entreprise pour les années à venir.
Avec l'utilisation d'une base de données commune et à la pointe de la technologie avec une cohérence des données éprouvée, intex ERP est une solution hautement performante qui vous aidera à accélérer vos processus.
Fully international
Being present in 6 countries with own staff and implementations in 25 countries around the globe, intex is a fully international business software and implementation partner.
Our softwares don't only support 13 languages as well its printouts are multilingual. As we have been parametrizing forms and printouts for textile production for quite a while now our implementations get a preconfigured set of standard forms and printouts delivered. There is always some adjustments required but we don't need to reinvent the wheel. In opposite to other systems the forms and printout parametrization is only required once in the company's home language. The other forms and reports get simply translated without further parametrization. Smart, huh?
The textile industry is one of the most globalized ones and a vastly multicultural environment. Subsequently we have set the language as a individual thing for each user. Anyone should be able to work in her or his preferred language – regardless of their current place of living. Couldn't be more convenient to arrange the language setting individually as just by the logon data.
Développement avec une source unique
One of the biggest advantages of the use of intex is its single source of development.
Since intex covers your whole organization there are no compatibility problems between modules or the need to use multiple apps to cover a single process, but only continuous processes in one integrated system.
In addition to that, a single source development also means a single source of support: No matter if you want to adjust the process of contacting leads in your CRM or capture new machines in your production planning: Our team at intex can support you on the most direct route.
Intégration d'un logiciel de comptabilité
Intex Consulting n'offre pas de solution propre pour la comptabilité financière. Est-ce une faiblesse de notre logiciel ? De notre point de vue, c'est plutôt une grande force. Tout ce qui concerne l'évaluation, la gestion des stocks, les coûts standard basés sur les paramètres de la machine cible spécifiques à l'article, les coûts réels basés sur les temps réels et les consommations du suivi, le calcul de la marge bénéficiaire, l'enregistrement des factures, le contrôle de la limite de crédit, tout ce qui concerne le matériau textile – toutes ces fonctions importantes sont couvertes par intex. Seule la comptabilité pure s'interface de manière allégée.
Les changements fréquents de la réglementation fiscale dans plusieurs pays et les exigences légales locales conduisent à cette stratégie que nous suivons depuis le début et visons à aller dans cette voie à l'avenir. Si les exigences légales locales touchent les fonctionnalités d'intex, elles sont naturellement développées dans le cadre de la norme. Par exemple, intex couvre le processus de facturation électronique en Italie et en Turquie (EVRIM) et d'autres. Intex Consulting fournira les données au grand livre général et sera régulièrement mise à jour bilatéralement. Ainsi, Intex peut se concentrer sur la fourniture de données et de possibilités pour augmenter la marge bénéficiaire des entreprises textiles – et nos clients sont libres de choisir simplement la meilleure comptabilité financière qu'ils peuvent trouver pour répondre à leurs besoins.
Si vous avez des questions sur ce sujet, n'hésitez pas à nous contacter !
intex provides a large variety of modules, including: